Verti-Crete Boundary Walls Dublin
Verti-Crete Ireland unique precast concrete walls make ideal boundary walls, due to their reduction in labour costs and their increased efficiency. If you are seeking to add new boundary walls to your home, then give Verti-Crete Ireland a call. We are the market leader for boundary walls in Dublin and Ireland. We have worked with many clients who have expressed their concern for more privacy on their property. A precast boundary wall will divide 2 homes to establish increased security and privacy around the home. A stunning and decorative boundary wall will really enhance your home. Our walling systems are perfect for any residential and commercial development.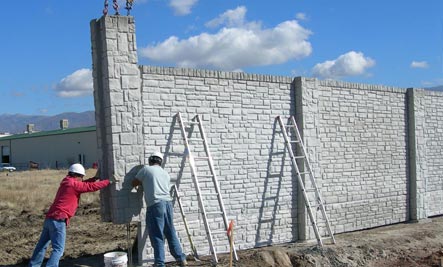 Precast walls are stable, versatile, and durable. Our boundary walls are manufactured off-site then installed at the property with efficient and faster installation turnarounds. For a cost-effective and efficient way to set boundary lines, precast walls are the way forward.
Verti-Crete precast walling panels are available in a range of heights from 0.6 metres to 2.5 metres. Our boundary walls are decorative, yet very effective barrier walls for every type of property. Our team has the expertise and professionalism to create unique and creative boundary walls that will create a sound barrier for noises outside and prevent other people outside from seeing into your property. Our team of craftsmen is highly skilled and professional so you can rest assured you are in the best hands.
Benefits of Pre-Cast Walling for Boundary Walls
Versatile and Aesthetically Pleasing
Precast is a versatile walling system that is aesthetically pleasing to the eye. It can take nearly every size and shape. Verti-Crete is a robust and stylish walling system with a natural texture and appearance like natural stone.
Reduction in Costs
Precast is manufactured to the highest standards off-site and is delivered ready to install when required anywhere in Dublin. This innovative process significantly reduces the overall labour and equipment costs and compresses project schedules saving you huge financial savings compared to traditionally built walls.
Due to the significantly reduced labour and equipment requirement provided by our precast solution, the Verti-Crete Walling system offers huge savings compared to the traditionally built architectural walls. Faster installation, reduced material storage, longer lifespan, and minimum maintenance or repairs make the Verti-Crete Walling system the most cost-effective high-quality natural stone effect offering for boundary walls on the market.
Robust Construction
Each hard-wearing and the robust precast panel is steel reinforced, providing a 100 year + lifespan.
Contact us today to discuss your next project. We look forward to hearing from you.