Verti-Crete Precast Concrete Walls Belfast
Verti-Crete Ireland specialises in the design, manufacturing, and installation of sturdy precast concrete walls suitable for various applications in Belfast, encompassing residential, commercial, agricultural, and industrial needs. We are dedicated to consistently upholding high-quality standards and tailoring our solutions to meet the unique requirements of our customers. Our concrete walling system introduces a new level of excellence to precast and boundary walls in Belfast.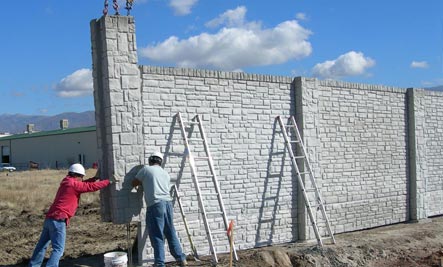 If you're seeking noise-reduction sound barriers, enhanced safety, and security, or discreet visual screening, Verti-Crete Ireland has the ideal construction walls in Belfast to fulfill your demands. Don't hesitate to reach out to our team, and we'll gladly explore the options with you.
All our precast wall panels exhibit durability, resilience, and exceptional quality. They are designed for swift and straightforward installation without ever compromising the final product's integrity. Our installation team is highly skilled and experienced, ensuring meticulous attention to detail at every stage of your project, granting you peace of mind with each endeavor.
The Verti-Crete Precast walling systems are meticulously crafted within a controlled environment, then transported to the site and expertly installed by our team. These precast walls significantly expedite the construction process.
Benefits of our Belfast Pre-Cast Walling Systems:
Versatility and Aesthetics
Precast walls are incredibly versatile and aesthetically pleasing. They can adapt to nearly any size and shape. Verti-Crete's robust and stylish walling system boasts a natural texture and appearance reminiscent of natural stone.
Cost Savings
Precast panels are manufactured off-site to the highest standards and are delivered ready for installation when needed, anywhere in Belfast. This innovative process substantially reduces labor and equipment costs, accelerating project schedules and resulting in substantial financial savings compared to conventional wall construction.
Robust Construction
Each precast panel is reinforced with steel, ensuring a lifespan of over 100 years.
Environmental Resilience
Precast concrete walls exhibit superior resistance to mould, fire, insects, natural disasters, wind damage, rain, and decay. They lead to lower insurance and maintenance costs and can withstand freeze-thaw cycles, making them an environmentally resilient choice.
Range of Sizes
Verti-Crete Precast wall panels are available in various heights, ranging from 0.6 meters to 2.5 meters. They can be used as full-height solid walls for protective purposes or combined with railing for a classic visual effect.