Verti-Crete Precast Concrete Walls Cork
Verti-Crete Ireland design, manufacture, and install solid precast concrete walls for commercial, domestic, industrial, and agricultural applications across the Cork region. Our investment in precast concrete walls has brought precast walls in Cork and Ireland to a very high standard. We have completed many projects with great success and have many extremely happy clients. Our concrete walls are designed to meet your needs. Whether you need safer living and security, noise-reducing sound barriers, out-of-sight visual barriers, or boundary walls in Cork, we have got the walls that will satisfy your needs. We will discuss with you to design the wall to your specifications and needs.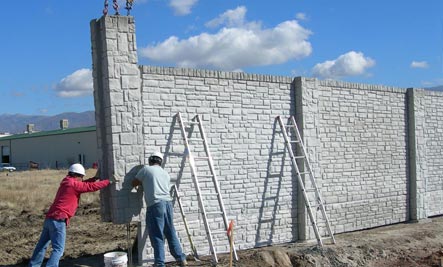 All our precast wall panels are manufactured for easy and quick installation while never compromising on the finished product or the quality, bringing you a high-strength, durable, and robust wall. Our installation services will give you peace of mind that you are working with an experienced company that delivers first-class service and walling systems that you can trust at every stage of your project.
Verti-Crete Precast walling systems are constructed in a controlled environment, transported to the site, and fully installed into place by our expert team. Precast walls speed up the construction process immensely.
Benefits of Pre-Cast Walling Systems
There are many benefits to pre-cast walls, these include:
Reduction in Costs
Precast is manufactured to the highest standards off-site and is delivered ready to install when required. This innovative process significantly reduces the overall labour and equipment costs and compresses project schedules saving you huge financial savings compared to traditionally built walls.
Due to the significantly reduced labour and equipment requirement provided by our precast solution, the Verti-Crete Walling system offers huge savings compared to the traditionally built architectural walls. Faster installation, reduced material storage, longer lifespan and minimum maintenance or repairs makes the Verti-Crete Walling system the most cost effective high quality natural stone effect offering on the market.
Aesthetically Pleasing and Versatile
Precast is aesthetically pleasing and versatile, allowing it to take nearly every shape or size. Verti-Crete is a stylish yet robust walling system with the texture and the look of natural stone.
Environment Resistant
Precast concrete walls provide superior resistance to natural disasters, mould, insects, and fire. Its resistance to wind damage, rain, and decay provides lower insurance costs and lower maintenance costs. Like no other building material, it can also handle winters of freeze-thaw cycles.
Available in a Range of Sizes
Verti-Crete Precast wall panels are available in a range of heights from 0.6 metres to 2.5 metres. The panels are available as full height solid walling, providing a protective barrier or a tasteful combination of railing and walling for a classical visual effect.
Robust Construction
Each hard-wearing and robust precast panel is steel reinforced, providing a 100 year + lifespan.