Verti-Crete Precast Concrete Walls Kildare
Verti-Crete Ireland is the market-leading manufacturer and installer of high-quality precast concrete walls covering County Kildare. We produce precast concrete products for the industrial, agricultural, commercial, and domestic sectors in Kildare. We have an exceptional reputation and are recognised as the top precast concrete contractors in this highly competitive market.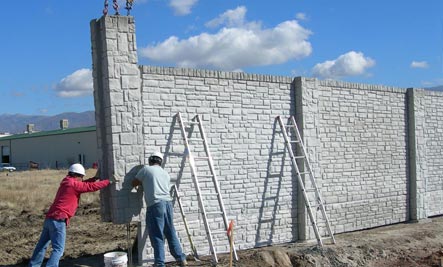 Customer service is paramount to us, from the initial inquiry to the installation and the completed project we work to perfection to give you a top-finished walling system.
Our precast concrete walls combine the benefits of fast construction and high-quality materials. All our precast wall panels are manufactured for easy and quick installation while never compromising on the finished product or the quality. Our installation team is experienced and skilled covering every stage of the project to perfection, giving you peace of mind every time.
Our concrete walling systems are transported to the site safely and constructed in a controlled environment by our expert team.
Benefits of Pre-Cast Walling Systems
There are many benefits to pre-cast walls which include:
Available in a Range of Sizes
The walling panels are available in a range of heights from 0.6 to 2.5 metres. The panels are available as full-height solid walling, providing a protective barrier or a tasteful combination of railing and walling for a classical visual effect.
Reduction in Costs
Our precast walling products are manufactured under our roof, off-site, and delivered to the site ready to install throughout Kildare. Our innovative process reduces site disruption, compresses project schedules, and reduces the overall costs of the project saving you huge financial savings compared to traditionally built walls.
Faster installation, reduced material storage, longer lifespan, and minimum maintenance or repairs make the Verti-Crete Walling system the most cost-effective high-quality natural stone effect offering on the market.
Versatile and Aesthetically Pleasing
Precast is a versatile walling system that is aesthetically pleasing to the eye. It can take nearly every size and shape. Verti-Crete is a robust and stylish walling system with a natural texture and appearance like natural stone.
Environment Resistant
Precast concrete walls provide superior resistance to mould, fire, insects, and natural disasters. It is also resistant to wind damage, rain, and decay, and provides lower insurance and maintenance costs. It can also handle winters of freeze-thaw cycles like no other building material.
Robust Construction
Each robust and hard-wearing precast panel is steel reinforced, providing a 100-year + lifespan.